Beer Can Chicken on the BBQ
Recipe generously provided by Patrick Wadden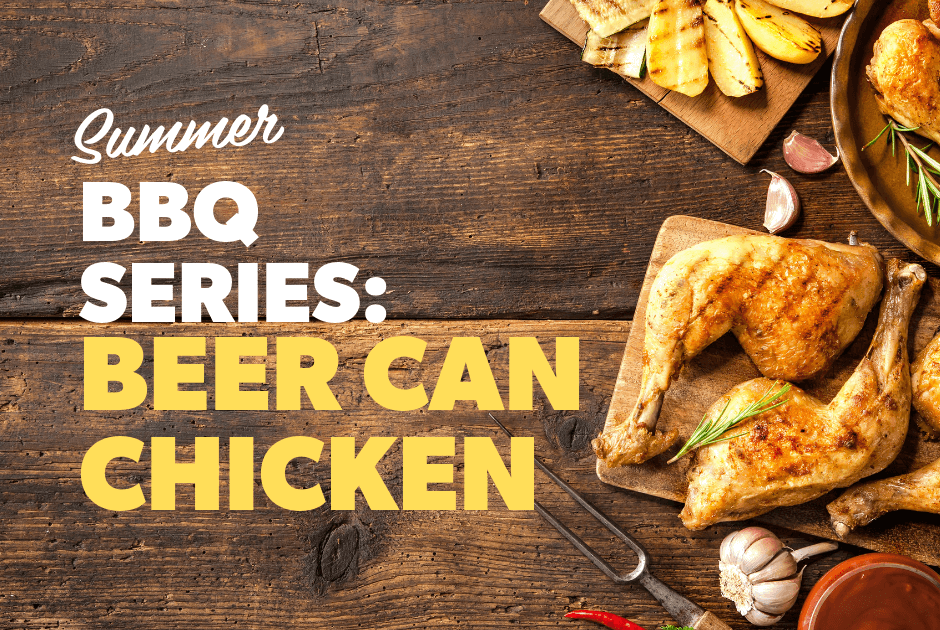 July and August are notoriously hot and humid in Atlantic Canada, which means it's time to fire up the BBQ. This recipe produces a flavourful, moist chicken that is *impossible* to resist!
What you'll need:
1 can of strongly-flavoured beer, like Guinness or one of the many delicious brews from an Atlantic Canadian brewer
1 whole chicken
A metal beer can chicken stand like this (please note we do not have experience with this exact beer can chicken stand).
Wet rub:
½ cup citrus juice (we recommend orange or grapefruit juice).
2 tbsp olive oil
2 tbsp balsamic vinegar
1 tbsp honey
Dry rub:
1 tsp salt
1 tsp sage
1 tsp thyme
½ tsp ground allspice
¼ tsp ground cinnamon
¼ tsp ground nutmeg
¼ tsp cayenne
1 clove freshly minced garlic
½ tsp onion powder
How to make it:
Mix the wet rub ingredients together in a large stainless steel bowl. Roll the whole chicken in the bowl until it is well-coated.
Mix the dry rub ingredients together in a separate bowl, and using your hands, rub it over the entire surface of the chicken.
If you like beer, pour half of the can of beer into a mug and enjoy.
Place the can with the remaining beer into the beer can stand. Sit the whole chicken over the beer can, with the can fitting snugly inside the chicken.
Turn your BBQ on high – you're aiming for 450-500 F. Place the chicken on the stand on the grill and cook it for approximately 1 hour and 20 minutes, rotating ¼ turn every 20 minutes.
Just a note: The chicken may darken quickly as the honey caramelizes, and may appear like it's overcooking. Always cook chicken to a safe internal temperature. Consult this link for a guide to safe internal cooking temperatures.
When the chicken is finished cooking, carefully remove it from the grill and transfer it to a carving surface. Let the meat rest for several minutes before carving it – you don't want to let all the juices flow out!
When you're ready, carve the meat and serve it hot with fresh salads for an impressive summer meal.
https://wilsonsheating.ca/wp-content/uploads/2019/07/BBQ-feature.png
788
940
epAdmin
https://wilsonsheating.ca/wp-content/uploads/2022/05/Wilsons-HH-logo-bigx2.png
epAdmin
2019-07-23 14:25:10
2019-07-31 11:18:08
Beer Can Chicken on the BBQ