It's the middle of summer and there is nothing better than a delicious grilled meal at the end of the day. Instead of cooking in a hot kitchen, have a BBQ! We thought it would be a fabulous idea for us to give you a few tips on ribs, and a couple of recipes if you would like to try them out. From our family to yours, hope you all enjoy!
TIP: Propane provides instantaneous heat,  so you do not have to wait for the grill to heat up!
Try to buy fresh ribs, not frozen ones.
You should allow for at least four ribs per person (a rack of ribs usually has 13-14 individual ribs on it). 
Avoid buying ribs if the edges appear dried out or if the meat appears to look gray.
We recommend trimming off any excess fat and ensuring there are no loose pieces of fat. 
Use a dry rub to infuse more flavour into your ribs
No multi-tasking. Grilling ribs requires patience and attention to ensure they don't overcook!
Brush BBQ sauce on your ribs intermittently, once the surface begins to cook, turning every so often.
Use tongs when you flip the ribs
A "done" internal temperature for ribs is 180F 
Always rest the meat and tent it with tinfoil for 15 minutes before serving.
Serve extra BBQ sauce on the side, in case your guests want more!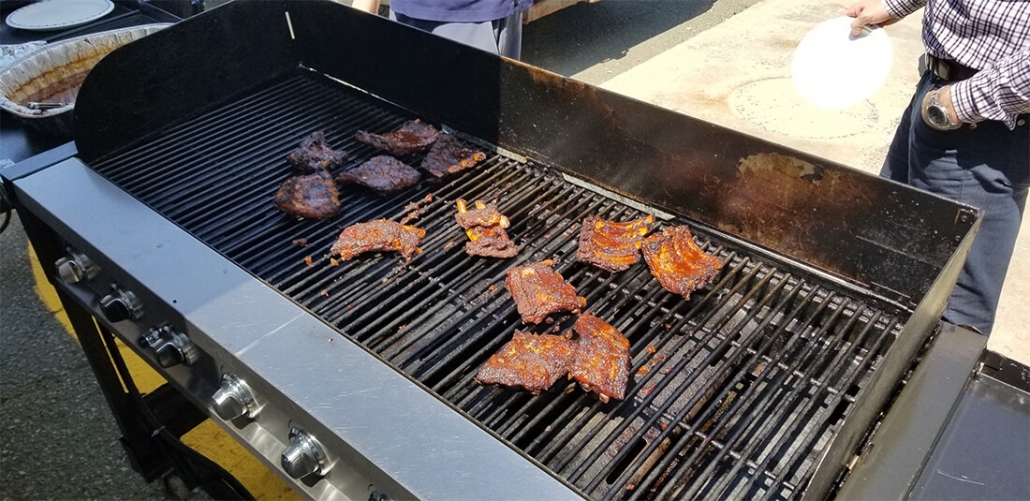 Try out this Wilsons-approved Dry Rub recipe featuring coffee grounds and smoky paprika:
Canada EH! Dry Rub Recipe for Ribs
Generously provided by Patrick Wadden
4     Tbsp Tim Horton's coffee grounds
4     Tbsp sweet smoked paprika
4     Tbsp Brown Sugar
3     Tsp   Salt 
1.5  Tsp   Freshly ground black pepper 
1.5  Tsp   Garlic Powder
1.5  Tsp   Onion Powder 
1.5  Tsp   Oregano Flakes
Mix all ingredients together in a bowl.
Here is the perfect BBQ sauce to go with the dry rub: 
Canadian Maple BBQ Sauce Recipe
Generously provided by Patrick Wadden
2 Blocks Margarine (1/2 Cup Each)
2 Large Sweet Onions, Diced Small
8 Cloves Minced Garlic
8 Tbsp Cider Vinegar
1-1/2 tsp Freshly Ground Black Pepper
1/2 tsp Cayenne Pepper
1/2        tsp Red pepper flakes
4 Tbsp Worcestershire Sauce
2 Cups Brown Sugar
1 Cup Quality Maple Syrup
4 Cups Ketchup.
In a large saucepan, heat up the butter, and add tje onion and garlic. Sautée until it is fragrant and softened. Add cider vinegar, pepper, cayenne and worcestershire sauce. Let it reduce for 1 minute.  
Add the maple syrup, brown sugar and ketchup. Simmer for 10-15 minutes.
This recipe makess five 500 ml Jars of sauce.
https://wilsonsheating.ca/wp-content/uploads/2019/07/grilling-ribs.jpg
788
940
epAdmin
https://wilsonsheating.ca/wp-content/uploads/2022/05/Wilsons-HH-logo-bigx2.png
epAdmin
2019-07-31 11:24:02
2019-07-31 11:24:02
Tips for Grilling Ribs